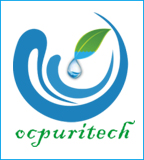 Deionized water system
Ocpuritech's deionized water filter system is an economical and convenient choice for producing high-quality DI water at a fraction of the cost of new resin. De-ionization filters function by measuring favorable hydrogen and unfavorable hydroxyl molecules to its beneficial and detrimental contaminant molecules from water. Favorable chemicals such as calcium and marketplaces with all the hydrogen molecules along with unwanted compounds such as potassium, marketplaces with all the hydroxyl molecules. As time passes, negative and positive contaminants from the water synchronize all of the hydrogen and hydroxyl molecules in the DI resin and also the filter has to be substituted. Regeneration of this deionization filter is potential, but just within commercial environment surroundings. De-ionization is an on-demand procedure containing pressurized water if required. That is vital because water in this extreme spirituality degree degrades fast.
The atomic grade deionization resin or shining mixed bed resin eliminates nearly all of the inorganic contaminants from the water increasing the resistivity of their water to your max of 18.2 megohm-cm. Our deionized water filter system comes in various sizes and can be configured to meet any flow rate or quality specification, no matter how demanding.