Company Advantages1.
The design of Ocpuritech uf filtration is a complex process, from 3D modeling, water quality analysis, to microbiological analysis, and construction, every detail is well taken care of.
2.
It continuously set and then exceed the standard for what it should be.
3.
uf filter is possessed of such advantages as uf filtration , thus it has a vast application prospect.
4.
Ocpuritech will arrange the delivery as soon as you put an order.
5.
The uf filter has gained its good reputation for its strict quality assurance.
Introduction
Ultra filtration system is a pressure driven membrane separation process that removes suspended or particulate matters (including colloids & silt) from water. It serves as a pretreatment for surface water, sea water and biologically-treated municipal effluent before reverse osmosis and other membrane systems. In addition to superior turbidity removal, UF ultra filtration system efficiently removes bacteria and most viruses. Ocpuritech also have other brand's UF membrane, like GE UF membrane, Bangmo UF membrane, Saveyor UF membrane.
The dosing system is mainly composed of a dosing pump, a dosing tank, and dosing chemical. The main types of dosing chemical are organic flocculants, bactericidal algaecides, scale inhibitors and other major categories. The organic flocculant removes suspended solids from the water to purify the water.
At present, there are two main types of water treatment bactericidal algicides, namely oxidizing bactericides and non-oxidizing bactericides. The use of this dosing chemical can prevent the corrosion and blockage caused by moss, bacteria and algae on the equipment, improve the working efficiency of the circulating water system and prolong the service life of the equipment. The scale inhibitor has the function of dispersing the sparingly soluble inorganic salt in the water, preventing or disturbing the precipitation and scaling of the poorly soluble inorganic salt on the metal surface.
Advantage
Description
| | |
| --- | --- |
| Item name | Material |
| Raw water pump &accessories | SUS304 |
| Back washing pump | SUS304 |
| | SUS304 |
| | PP |
| Central controlling system | Schneider Relay,AC |
| 8040 UF membrane | PVC |
| Inline flow meter | Plexiglases pipeline |
| Pressure gauge | Oil filled antisepsis panel |
| Pressure switch | Mechanical |
| Solenoid valve | Brass |
| Adjustment valve | Brass |
| High liquid level protecting switch | Cable type float switch |
| Inlet/outlet pipes&valves | UPVC |
| UV | 110W without control panel |
| Stainless steel frame | SUS304 |
| CIP pump | SUS304 |
| | SUS304 |
| Filter bag-PP | PP |
| Dosing pump | PVDF |
| Dosing tank | PE |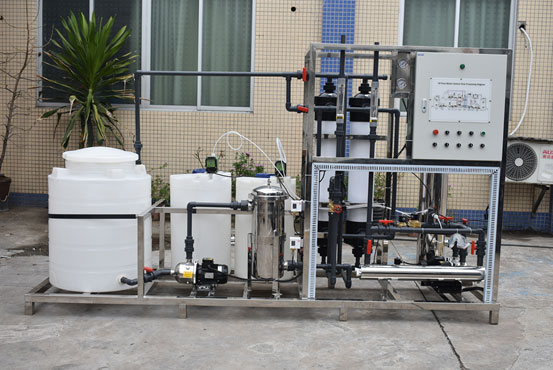 Accessories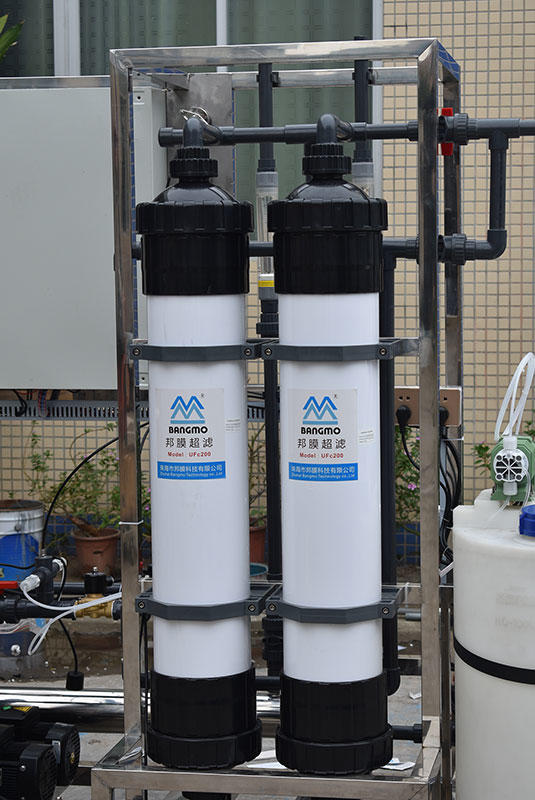 Good brand Bangmo UF Membrane with high quality FRP membrane housing can keep lasting 2-3 years,remove 90 to 99.99% of the dissolved impurities that reside in your water.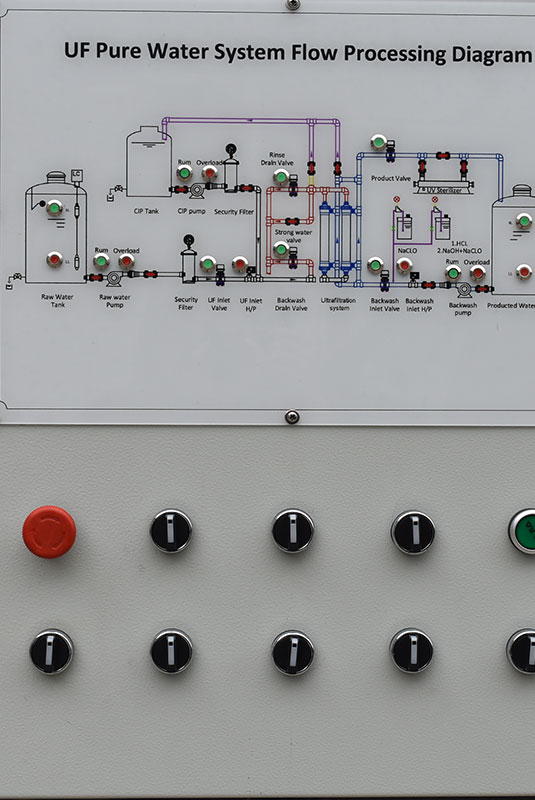 Easy operation:Flow chat in control panel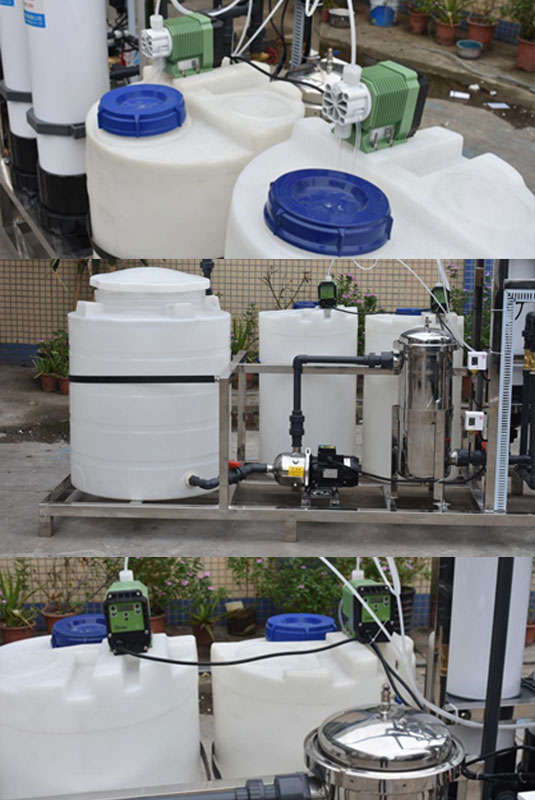 Dosing system:Efficiently sterilize and kill virus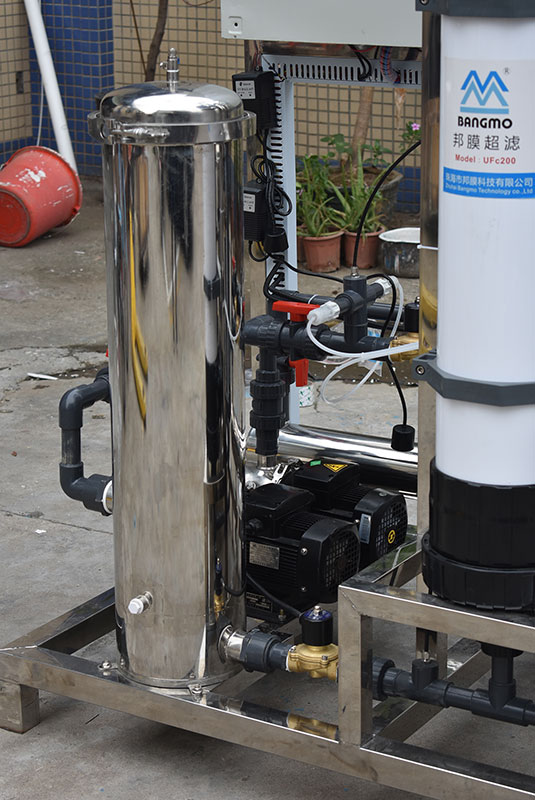 Precision filter:Add PP filter cartridge to protect membrane and extend membrane service life.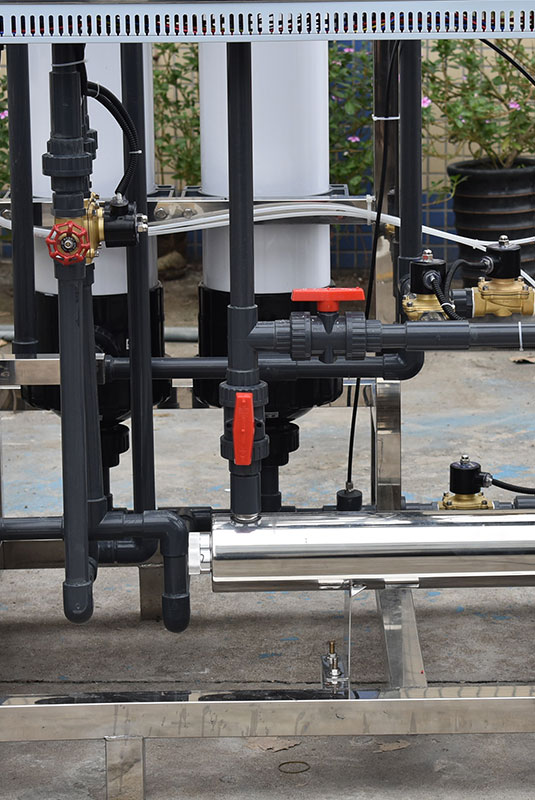 UV sterilization:Efficient sterilization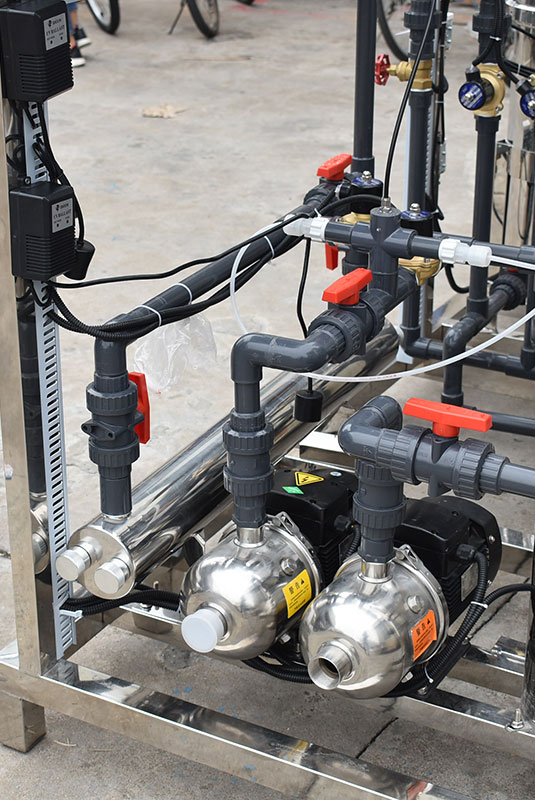 NCP raw water pump: Stainless steel good quality and long lasting
Consumable list and replace time
| | | | |
| --- | --- | --- | --- |
| S/N | Name | Material | Service life |
| 1 | Precision filter | PP | 3-6 months |
| 2 | UF membrane | Bangmo Vontron/Dow/CSM etc; | 2-3 years |
CE certificate is a certification mark that indicates conformity with health, safety, and environmental protection standards for products sold within the European Economic Area (EEA).
The CE marking is also found on products sold outside the EEA, This makes the CE certificate recognizable worldwide even to people who are not familiar with the European Economic Area. It is in that sense similar to the FCC Declaration of Conformity used on certain electronic devices sold in the United States.
Our water treatment system and water treatment accessories all have been certificated by CE and provide 1 -year warranty, many clients are very recognized for the quality of our products, we are your trusted partners, contact us now!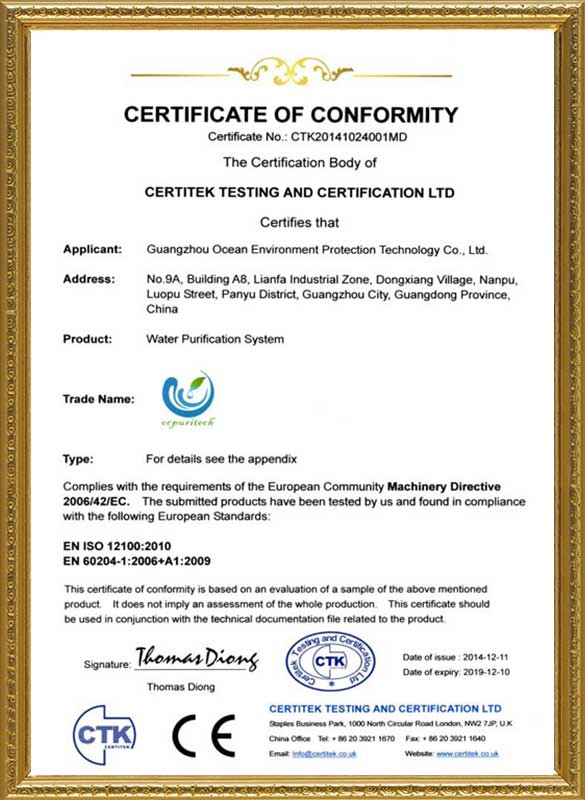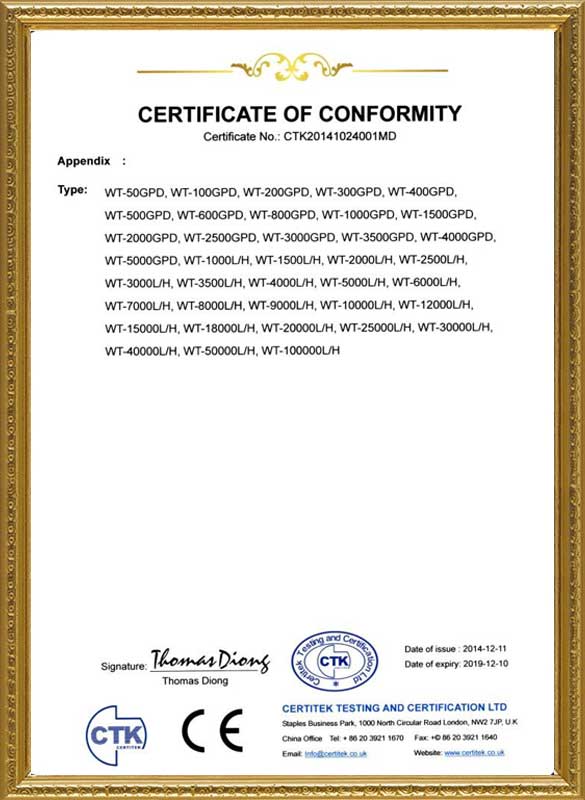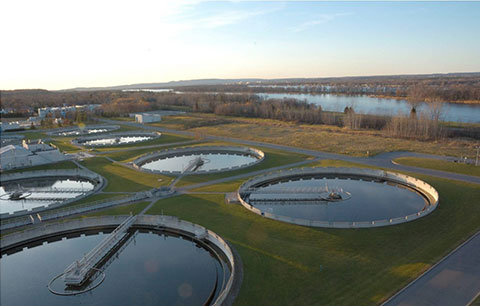 1.Various kinds pure water , ultra pure water pre-processing;
2.Waste water reuse eliminate suspended substance;
In the process of ultrapure water production, in addition to the need for pretreatment, RO membranes, precision filters, in order to ensure the water quality of ultrapure water, UF Ultrafiltration system is often required to be placed behind the pretreatment to achieve the effect of secondary filtration. The water quality of the RO membrane is cleaner, and it is convenient for the RO membrane to meet the water quality requirements of ultrapure water and prolong the life of the RO membrane. UF is also used in wastewater treatment recycling, such as farms. After washing the waste generated by animals, the water can be recycled by UF Ultrafiltration system to save water resources.
Company Features1.
The rich experience and good reputation bring Guangzhou Aomi
Water Purification System
Manufacture Co., Ltd. a great success for uf filter.
2.
With the modern production lines, Guangzhou Aomi Water Purification System Manufacture Co., Ltd. has full ability to produce high quality ultrafilter .
3.
With the business tenet of uf filtration , Guangzhou Aomi Water Purification System Manufacture Co., Ltd. are striving for the first-class brand. Get price! It is widely admitted that Ocpuritech has been always sticking to the tenet of uf filter. Get price! With the service tenet of ultrafiltration water treatment , we will continue to strive to come true our dreams. Get price! Taking ultrafiltration system as designing tenet, Guangzhou Aomi Water Purification System Manufacture Co., Ltd. innovates continually and lead the trend in uf filter field. Get price!